By Zoe Taylor
Future Bayswater is an award-winning community group comprised of local residents, business people and town planning professionals who have come together through a united vision to reboot their tired suburb.
To do this, the group partnered with 25 Master of Architecture students in a project called the Bayswater Urban Regeneration Hub, to generate research and ideas about how to transform Bayswater into an inviting, sustainable and transit-orientated city.
"We are privileged to have Curtin's best and brightest architecture students take a fresh look at our town centre and capture the community's vision and local opportunities to create a thriving transport-oriented hub," says Shanahan.
"It is a great time to be undertaking a study such as this, with the Forrestfield Airport Link and new Ellenbrook line on their way. Bayswater is set to be a significant Metrohub as part of the State Government's visionary Metronet initiative."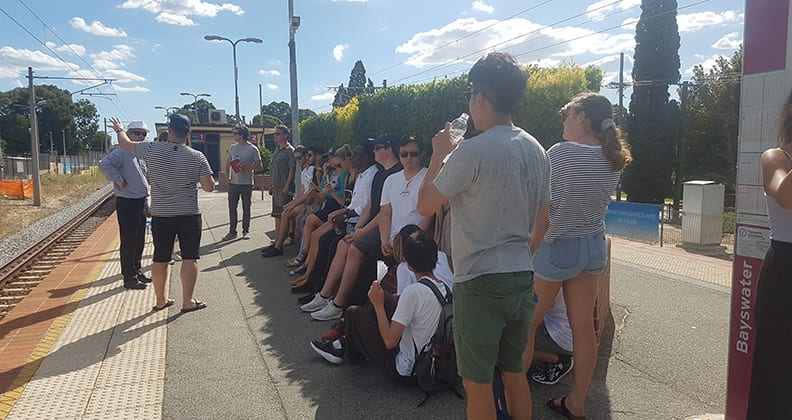 The Bayswater Station upgrade will aim to attract people into the suburb.
As part of the project, the students held forums with Future Bayswater members and the broader community to discuss proposed changes to the town centre. These changes include upgrading the Bayswater train station originally built in 1896, creating new public spaces and amenities and the construction of mixed-use residential apartments.
While Future Bayswater strongly supports the revitalisation of their suburb, they want to ensure any development is forward-thinking.
"It's important for the community to voice their concerns. They are the people who will be living in Bayswater in the long run, so their inclusion in matters is very important," says Roy Githaiga, an architecture student involved in the project.
"I think the community's biggest concern was the idea of medium-density living arrangements overshadowing their homes," says student Oliver Pearce.
"I think in their mind they were picturing large, run-down apartment buildings, whereas in reality these developments can actually tie in seamlessly with the community and help establish a sense of identity."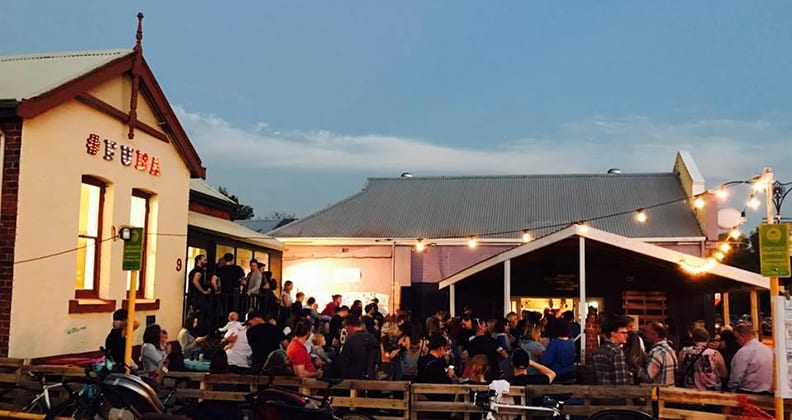 The project brought the Bayswater community together to discuss ideas in informal settings.
Working closely with the Future Bayswater group, the students generated six proposals that detailed ways the city could leverage the upgraded train station to enhance its culture and economy.
"Some proposals included giving the existing buildings a face-lift and increasing their street appeal so that anyone at the Bayswater train station would see a more modern city and might be attracted to walk into the area," says Pearce.
"Others tried to symbolically link the station and the city through the use of art, with the idea being the city could become an exhibition for people to visit.
"However, most proposals were based on a change that started with the health of the community: that people would attract people."
Curtin Professor Reena Tiwari, the students' project leader, says the collaboration gave the budding architects the opportunity to put their learning to the test.
"These experiential or 'real-world' projects give students lifelong skills, such as adapting to and understanding a variety of situations and people, while learning acceptance and tolerance of different lifestyles," she says.
"This project enabled me to work in a real-world situation and have the opportunity to speak to real stakeholders," says Pearce.
"Getting out of the classroom brought whole new challenges, but I felt like what I was working on was actually going to make a change."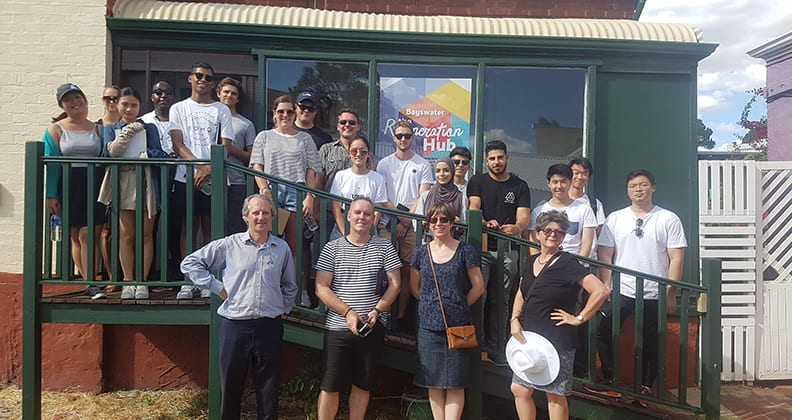 Members of Future Bayswater with Curtin Master of Architecture students.
For Githaiga, the project has given him new ambition. Originally from Kenya, he would like to use his master degree to benefit his community back home.
"This project made me realise that as an architect, I cannot simply design for aesthetics and function – the community has to come first."
"I'm hoping I will be able to go back to Kenya and try to implement changes that benefit the community and be more involved in urban development projects."
Future Bayswater aims to include the students' proposals into future development discussions with stakeholders, as well use the information to inform the people of Bayswater that change can be a positive thing.
"What we've done is start a conversation," says Pearce. "We've put ideas into people's heads and hopefully encouraged them to stand up for their community and get involved with the future of their city.
"We set out to convince the community they don't need to be afraid of change and I think we achieved that."